Read the article here.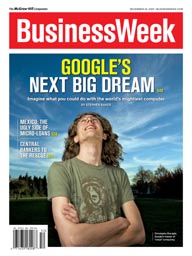 UW CSE alumnus Christophe Bisciglia is profiled in a Business Week cover story.
"What recruits needed, Bisciglia eventually decided, was advanced training. So one autumn day a year ago, when he ran into Google CEO Eric E. Schmidt between meetings, he floated an idea. He would use his 20% time, the allotment Googlers have for independent projects, to launch a course. It would introduce students at his alma mater, the University of Washington, to programming at the scale of a cloud. Call it Google 101. Schmidt liked the plan. Over the following months, Bisciglia's Google 101 would evolve and grow. It would eventually lead to an ambitious partnership with IBM, announced in October, to plug universities around the world into Google-like computing clouds …
"How was Bisciglia going to give students access to this machine? The easiest option would have been to plug his class directly into the Google computer. But the company wasn't about to let students loose in a machine loaded with proprietary software, brimming with personal data, and running a $10.6 billion business. So Bisciglia shopped for an affordable cluster of 40 computers. He placed the order, then set about figuring out how to pay for the servers. While the vendor was wiring the computers together, Bisciglia alerted a couple of Google managers that a bill was coming. Then he 'kind of sent the expense report up the chain, and no one said no.' … ("If you're interested in someone who strictly follows the rules, Christophe's not your guy,' says Lazowska."
Don't miss the BusinessWeek / CHINA cover!