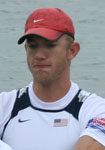 2005 UW Computer Engineering bachelors alumnus Brett Newlin will represent the United States in the Men's Four at the Beijing Olympics. A four-time national team member and first-time Olympian, Brett was named USRowing's Male Athlete of the Year in 2006.
Brett was one of six US Olympic Team members featured in an August 3 NY Times spread, Bodies of Work: "'In high school, I was kind of a beanpole. Then in college I started rowing, and muscles started popping out from all over the place.'"
See Brett's USRowing Olympic biography here. Beijing photos by fellow Husky oarsman Scott Gault here.