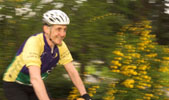 UW CSE professor Ed Lazowska is featured in UW Medicine's 2008 Report to the Community. Lazowska contracted a life-threatening spine infection that was successfully treated by a team at Harborview Medical Center led by Dr. Jens Chapman.
"As a patient at Harborview, Lazowska said he received expert care but perhaps the most extraordinary part of the experience was seeing how employees at every level, not just those providing direct patient care, took pride in patients doing well.
"'After surgery, I was struggling to go up and down the hall with my walker,' Lazowska said. 'The custodial staff would stop to cheer for me as I passed. It meant so much for them to stop what they were doing and help motivate me as I recovered – it was utterly remarkable.'"
The article is here (pdf).