Read the article here.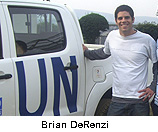 "An application for household registration of births and deaths is being developed in a project under the umbrella of the UN Millennium Project.
"Brian DeRenzi, a graduate student in computer science at the University of Washington in the US, is helping test the application as it is being fine tuned at a health facility in Uganda.
"In Uganda, DeRenzi says, there are community health workers who go from house to house to collect health information and do health promotion. The goal is to enable those health workers to use the service to register births and deaths on their mobiles and send the information to a central database via GPRS."