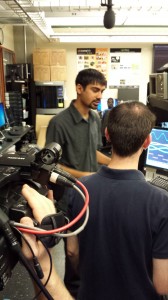 The Computing Community Consortium (CCC) is releasing the third segment in its Computing Research in Action Series.   This segment features the Ubiquitous Computing (UbiComp) research lab, led by Professor Shwetak Patel, at the University of Washington. The UbiComp lab, which consists of an interdisciplinary team of students, focuses on solving interesting and socially meaningful problems using a mix of hardware and software applications. The UbiComp lab focuses on four areas of ubiquitous computing:
Novel interaction techniques
Sustainability sensing
Low-power sensing
Health sensing
In addition to Shwetak, the video features graduate students Sidhant Gupta, Gabe Cohn, Lilian de Greef, and Mayank Goel.
Read more and watch the terrific video here. Direct link to video here.